Welcome to your new CTMS!

OnCore is a clinical trials management system (CTMS) that will manage clinical research from start to finish, including building budgets, calendars for managing research billing and integration with Epic, and research participant tracking. Along with additional modules (eReg, Payments, and EDC), OnCore will provide the entire University research community with efficient processes to manage financial aspects and participant requirements that can also maintain a compliant environment at our institution. OnCore and its supporting modules can be leveraged alongside other systems that we currently use to share information across campus (Epic/Epic Research, ERICA, EDW, etc) and aid in recruitment. Reporting capabilities can allow us to strategically plan as research continues to grow at the University of Utah.
Benefits of OnCore

Central source for clinical research tracking and reporting at the University of Utah
Ability to interface with Epic to share data, capture research billing charges, recruit participants
Reporting capabilities with standard and customizable reports
Efficient and compliant management of participant payments
Participant Tracking: Status, Adverse Events, Upcoming Appointments
Budget management of studies in real time
Experience with OnCore with HCI implementation 11+ years
Joining other institutions in the US that manage clinical research with OnCore
Will I need to use OnCore for my studies?
OnCore Registration Requirement
All research involving human participants that meets one or more of the following criteria must be entered into OnCore:
Any research study that includes a prospective clinical item including lab tests, blood draws or x-rays. This is the case regardless of whether the clinical item(s) will be paid for by the research project (study sponsor) or the participant's insurance. A clinical item may include any treatment (e.g., drug, device), intervention (e.g., randomization of patient to one of two standard of care treatments), or clinical procedure (e.g., blood draw, MRI, physical exam, pathology order. All clinical services must be billed.
Any study that meets the definition of clinical trial by the requisite sponsoring agency (e.g. NIH), regardless of inclusion of prospective clinical items as outlined above.

 
Any study where a participant receives any payment that meets the current University policy for remuneration (i.e., cash, check, gift certificates, gift cards, or other items of value).
When will I use OnCore?
OnCore will go-live on 04/25/2022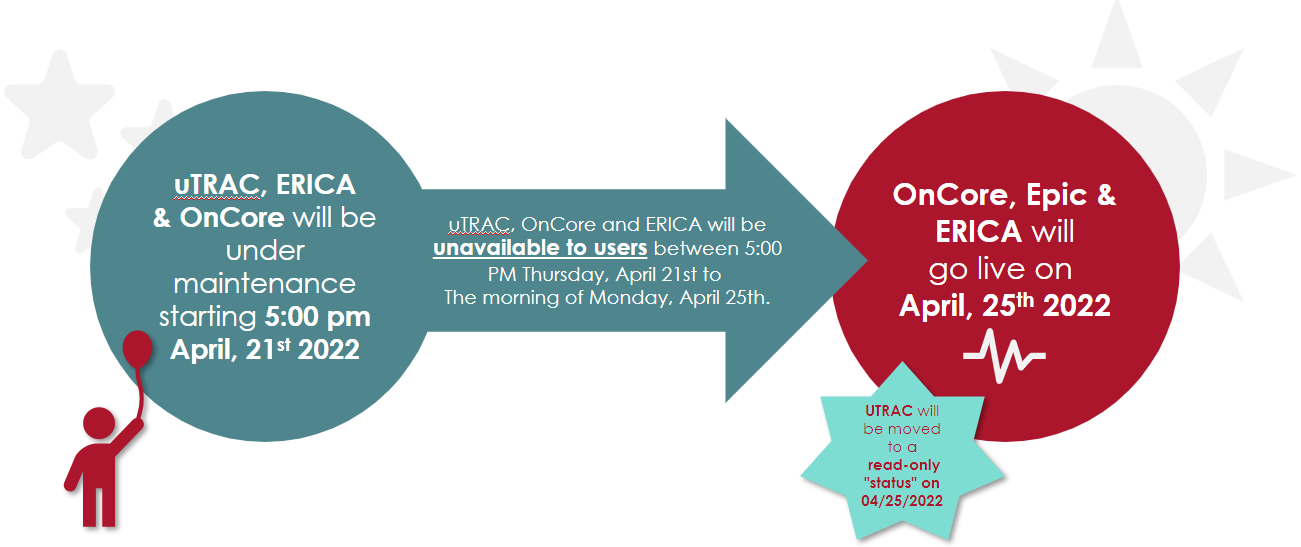 Beginning April 25, 2022, U of U Health will be implementing Oncore and Epic Research. Together, the OnCore Clinical Trials Management System (CTMS) along with a collection of additional modules, and EPIC Research module provide a centralized electronic infrastructure to support researchers and research teams with day-to-day operations and seamlessly manage compliance requirements.
uTRAC, ERICA, and OnCore

will be under maintenance starting

5:00 PM April 21 2022

OnCore, Epic, and ERICA

will go live on

April 25 2022

.

uTRAC will no longer be used and will be maintained in a "read-only status".

uTRAC, OnCore, and ERICA will be unavailable to users

between Thursday, April 21 (5:00 PM) and the morning of Monday, April 25.
How do I get access to these systems?
Required Training for access to OnCore and Epic Research
The following training is required to get access to these two systems...
What are the additional products being implemented for clinical research?
Additional products coming to U!
Using designated routing and workflows eREG will send documents, automatically alert study staff when new documents are submitted. This gives study teams, investigators, and the University of Utah the ability to increase regulatory compliance and increase efficiency while maintaining regulatory for binders, obtaining electronic signatures for protocol documents, creating and updating delegation of authority logs, etc. It's FDA 21 CFR Part 11 compliant.
Payments can be made easily by study coordinators to subjects by clicking one button. This reduces data entry time for study coordinators and time to payment for participants. This module allows for the study team to more easily track study finances using the available reporting features. The University of Utah can increase their compliance requirements by tracking study participants and income for tax purposes without extra efforts for the study teams.
Electronic data collection forms can be created and maintained within the system using the EDC module. This module is compliant with FDAS 21 CFR Part 11 security and integrity requirements. This allows study teams to minimize duplicative data entry, collect secure captures of signatures. Using a link with EPIC, clinical data can be shared directly into the forms. This reduces staff time and effort as well as errors in data collection. Shares data with EPIC automatically, increase efficiency in data collection and reduction of errors.